Augustine's SuperBath
Regular price

Sale price

$45.00
Augustine's SuperBath is the herbal powerhouse bath, perfect to be used as foot soak or bath for pups who have skin issues, require occasional skin soothing or simply for weekly maintenance. This floral mixture is 100% vegan and comprises non-GMO, certified organic and wild-harvested ingredients. Key benefits of using Augustine's SuperBath include:

1) provide intensive soothing effects for troubled, sensitive area(s)
2) moisturise and hydrate dry skin
3) clean and condition skin and coat
4) revitalise coat appearance 
5) eliminate bad odour

It is important to keep troubled area(s) submerged for as long as possible, up to 15 minutes maximum. If you are unable to submerge certain areas during a bath, use a large cup to pour the bath water over the troubled area(s) repeatedly. It is recommended to use the bath bag as a sponge to scrub troubled area(s) and to squeeze and use the bath bag to dab on the sensitive and non-submersible area(s) continuously.

For best results with troubled areas, use as often as 1 to 2 times daily for the first 5 days and then reduce the frequency to once every 2 days, then every 3 to 4 days and so on.  
Ingredients & Source

Licorice Root
Pau d'Arco
Cat's Claw
Cinnamon Bark
Burdock Root
Devil's Claw
Chamomile Flowers
Calendula Flowers
Share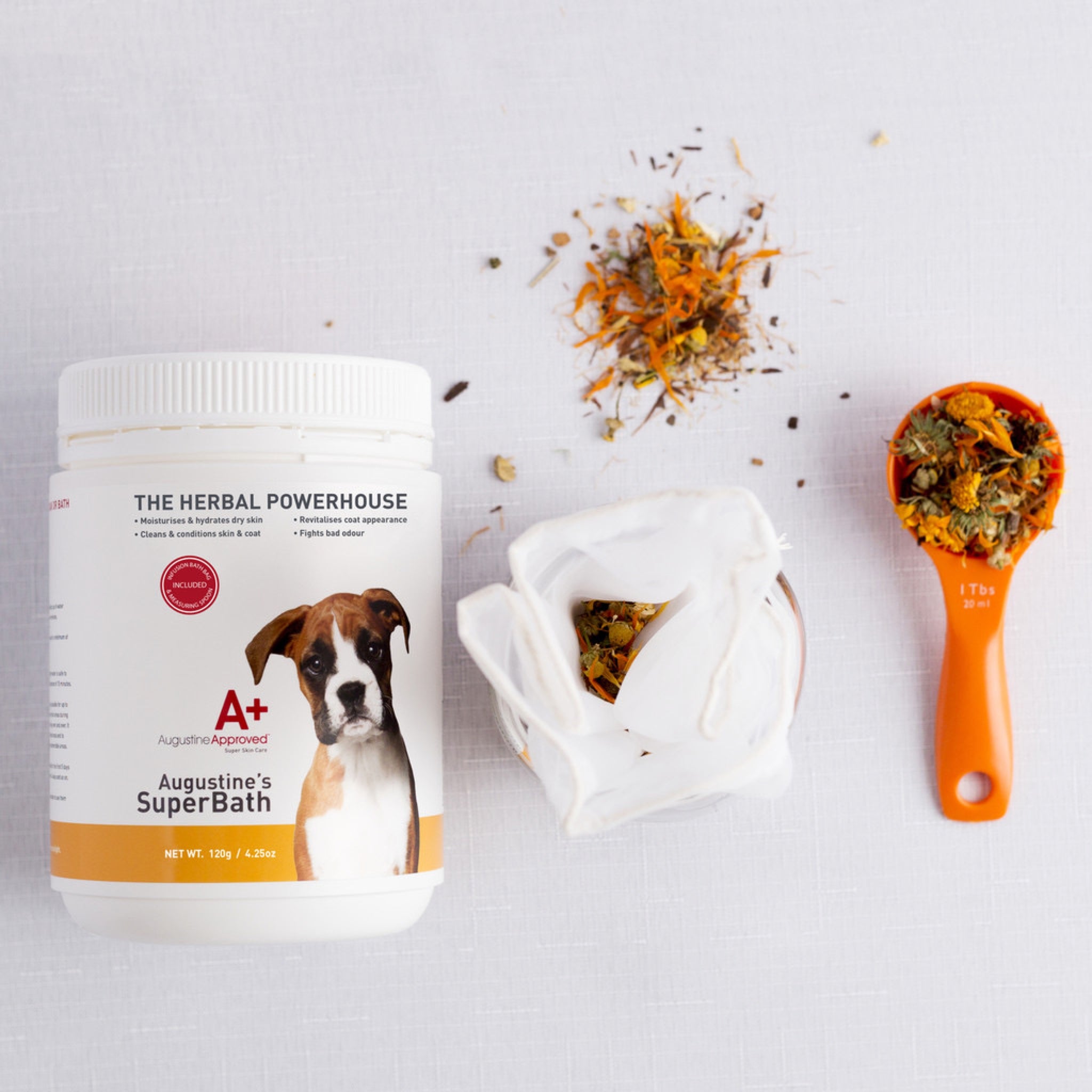 Why shop with us?
Free shipping within Singapore

Shipping is always free with no minimum purchase required for deliveries within Singapore. Typically, your order should reach you between 1 to 3 days, excluding weekends and public holidays.
Earn up to 10% rebate

Our loyalty programme "The Happy Dog Club" allows you to earn instant loyalty points and redeem attractive rebates up to 10% when you shop with us. You will earn 5 points for every dollar spent. 

200 points = $1 off
500 points = $5 off
800 points = $10 off
2,000 points = $30 off
3,000 points = $60 off